$275,000
Granted to Brandon-area nonprofits and causes since our founding.
Strengthening Our Community
We believe the Brandon area is a great place to live, work, and play. We also believe we have a responsibility to help preserve and sustain what's good here, and to support local nonprofits which make our community even better.
Thanks to the support of our donors, we're proud to say we've granted more than $275,000 to nonprofits and causes throughout our community since 2006, improving quality of life, creating positive change and driving meaningful social impact through philanthropy. To that end, we're intentional and focused on:
Passion & Purpose
We're here to foster a culture of giving and care in Brandon, to inspire philanthropy, and to improve quality of life and enhance the vibrancy of our community.
Community Impact
In 2020 alone, the Brandon Community Foundation presented more than $35,000 in grants to local nonprofits. The grants were awarded to nonprofits serving youth, mature adults, recreation, education and more and were presented at the annual Oak and Vine event, held on Friday, Oct. 30, at the Brandon Holiday Inn.
2020 Grant Recipients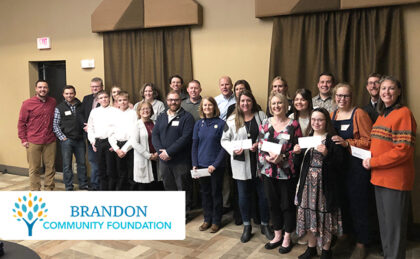 The following organizations received grants in fall 2020:

Faith United Presbyterian Church
Brandon Valley Baseball Association
Brandon Volunteer Fire Department
Boys and Girls Clubs of the Sioux Empire
Junior Achievement of South Dakota
Best Buddies Brandon Chapter
Brandon Valley Area Chamber of Commerce
Brandon Valley Band Parents, Inc
Brandon Valley Assembly of God
City of Brandon – Parks Department
VFW Three Rivers Post #4726
Apply for a Grant
Grants are awarded to area charitable organizations who strive to improve the quality of life for all ages in the areas of arts, recreation, health and public safety, education and more.
Learn more and apply
Grants listed above are as of November 2020.